Debt and slavery: Are we still talking about a free world?
September 7, 2012 – First guest post for Pythagoreanism.com!
Written by Corey Wlodarczyk
If the buy-in requires the sacrifice of freedom and the game is mandatory, are we still talking about a free world?  Historically, the United States has considered it a constitutional right to be able to discharge debt, and has condemned debtor's prison.  Somewhere along the road, something changed.
While defaulting on a student debt load has not yet directly lead to imprisonment, the disproportionate imprisonment of low-income persons is happening today.  Creditors for student debt essentially have the first and last cut of a graduate's finances.  For debtors, most consumer protection safeguards are stripped from student loans.  It's virtually impossible to discharge the debt, collections agencies need not follow traditional regulations on collecting the debt, wages may be garnished, tax refunds and social security benefits may be withheld.  These Draconian Debt laws are all reserved for a type of debt that is basically a mandatory requirement for meaningful participation in society.
While debt is not mandatory in the sense that there is no possible method to participate without it, it truly turns on what we consider meaningful participation.  The U.S. Census Bureau reported in 2009 that the median annual earnings for those with only a high school diploma and a Bachelor's degree were $26,776 and $47,510 respectively. To put this in perspective, the poverty line for a family of four is roughly $23,050 a year.  For those wishing to have a family and avoid a poverty stricken life, a bachelor's degree presents itself as an obvious necessity.
But to obtain that degree, the costs are ever increasing.  The average increase alone to public tuition costs comes in at around 15% nationally, excepting those unfortunate enough to attend school in Georgia, California, or Arizona, where the increases are roughly 40%.  In 2010, the average graduate owed $25,250 at graduation, and for graduates with professional degrees average around $100,433. What is obvious, is that the entry-fees into the middle-class are ever increasing, while the middle class itself is enjoying fewer and fewer benefits of prosperity, especially considering the rising costs of living (especially health care), not to mention the general distaste of investing money for retirement to fuel Wall Street's risky gambling.
The millennial generation faces the worst case of a modernized indentured servitude.  The costs of education are rapidly increasing at an unprecedented rate, while the necessity of a college education is becoming increasingly important.  Comparing the debt loads of the Millenials to the Baby-Boomers paints the picture of generational betrayal.  The Baby boomers traditionally could find gainful employment with nothing but a high school degree.  When globalization shipped most of those jobs overseas, the importance of higher education was preached to every student smart enough to listen.  Next, education services were gutted, and by the very Baby Boomer politicians that benefited from a society that taxed its highest bracket at 93% investing heavily into its future.  The current outstanding student debt load in the U.S. just broke $1 trillion dollars in the past year.  That's a balance that grew by over 60% in the past 5 years ($444 Billion to $801 Billion from 2006-2011, only including Federal loans).
This type of debt is not like credit card debt, mortgages, or auto loans.  This is something that has been sold to the millennials as the only means to compete in modern society.  There is nothing tangible to be repossessed as there is with the other types of debt involving purchase of a home, car, or just "stuff" bought with the credit card.  There is nothing a graduate can do to relieve himself (or herself) from the indentured servitude of their student debt, and the consequences for falling behind on the payments are huge.
At this point, restoring consumer safeguards, such as the ability to discharge through bankruptcy, wouldn't be enough to reverse the damage done.  The national debt  count is now around $15 Trillion, if the federal government had to pay out on every student loan, we'd add another $1 Trillion to the debt (roughly a 6.7% increase).  The only true solution to the problem requires the federal government to begin to invest heavily into education.  The states do not possess the money to fund the education systems, and the federal government does.  If the federal government spent half as much on education as it does on its military budget, this debate doesn't even come up.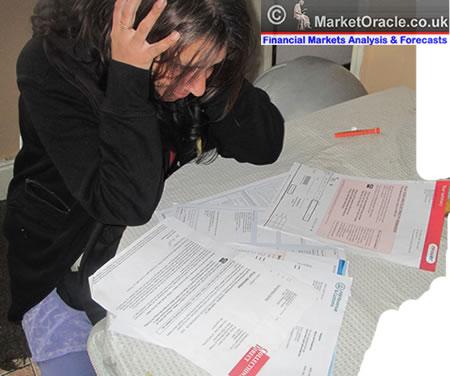 Debt is a siphoning of wealth from a lower class to a wealthier class, to keep the wealthier class in the possession of wealth without creating wealth.  Debt does not exist without a caste system, and may always exist to ensure the continuation of a caste system.  At the very least, this is true when the debt is a required "buy-in" to society.  And this, of course, affects different classes differently, and poses a great determining factor in cementing the already poor into the working class of society, with greater hurdles to overcome for those that have less to give.
The intent behind consumer protections for debtors was to set a justifiable extent of creditor power, and to protect debtors from abuse at the hands of their creditors.  These have been wiped away in order to ensure that the creditors will be able to collect on their "entry-fee" owed to them by those students so bold as to believe they could join in and earn their future.
The scary part of all of this, is that at times, we're addressing the concept of fictitious money; numbers representing a currency without any tangible backing or support.  What happens when the lenders lend more money than they have, or money the lenders borrowed from the Federal Reserve (for almost zero interest)?  What happens when the money that is lent, and accruing interest, does not exist?  The interest on the loans is created from money that is lent, but which never previously existed.  Or imagine, the money does exist, but the bank made its money by investing in companies that created their wealth from running child sweatshops in Southeast Asia and Africa, or worse, that the wealth was created through slavery or genocide.  Do we still want to be a society that repays these types of organizations with clean money in their very intricate, complex, and now legal, money laundering scheme?  Maybe, just maybe, there is ample justification for a student loan strike.
—
Corey Wlodarczyk is a recent graduate from Seattle University School of Law interested in advocating on behalf of the underrepresented. He currently writes about student debt and the criminal justice system.
Tags: